A Message From Judith L. Meyer
Experience has taught me that knowledge, preparation and dedication are the foundation for excellence, which is exactly what I will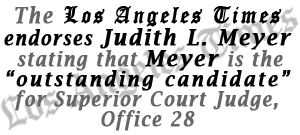 bring to the courtroom as a Superior Court Judge.
Knowledge and preparation are imperative to reach a just and fair ruling. As a Criminal Prosecutor working in the courtroom on a daily basis for over a decade, I have learned first-hand that you must know the issues before you. When unfamiliar with the law, research is of paramount importance to make an informed and impartial decision. A willingness to work hard is fundamental.
For me, an intimate understanding of a case also demonstrates respect for both the process and the participants in the courtroom. Following this approach as a prosecutor has gained me the respect of colleagues, opposing counsel, Deputy Public Defenders, court staff, and judges. Not only do I embrace this principle in my own practice of the law, I also instruct it to my students at the Pacific Coast University School of Law.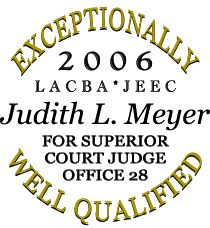 I have a reputation for exceeding expectations. Nearly 20 years ago, as a whitewater river rafting guide on the American River, my colleagues were convinced I could not be strong enough to do a good job. I proved that I was. I learned that river so well that I knew it better than anyone else. As a result, I rescued several of my fellow guides off the rocks that summer, saving them and their passengers from a cold and dangerous swim into the rapids. I earned their esteem through my hard work, dedication, and competence. Later, as an Emergency Medical Technician on an ambulance, and as a Professional Ski Patrolman, I applied these same principles, demonstrating the same determination and skill. I served the public in these capacities as a first-responder for many years.
Clear-headedness saves lives when responding to emergencies. It is vital in a courtroom when dealing with the highly charged emotions of a trial. Knowing the law must be balanced with a calm disposition and objectivity to see the facts clearly. This is critical for a judge to rule logically, appropriately and impartially.
With my proficiency, temperament, integrity, and dedication, I have the foundation for excellence, the essential qualities to be both a competent and reputable Superior Court Judge. When I preside over a case, I will provide fair and equal administration of the law, without corruption, greed, prejudice, or favor. This is my obligation to you and to our system of justice.
Thank you, and I appreciate your support.